Pyramid Peak Lake Tahoe 2014
The lack of snow at Tahoe this year created some unique opportunities of exploring various peaks in the winter time. Since 'winter' started, until January 2014, there are probably three snowing days at most. Tahoe has not being drier for the past 20 years. Skiers was groaning, looking at bare rocks and turn back to their comfortable cabin. For us it's a great time to bag a peak.
I camped at the heel of the peak last year, Lake Aloha, and stared at this peak for a good morning. It was covered with snow then, and it stands out in the ridge of two other peaks, which made it a good spot to view surroundings of Tahoe in my mind. There are also many lines that I can see to get to the top, leading to my belief that this will be an easy trip with little route finding effort, merely long distance to cover. Turns out I was wrong.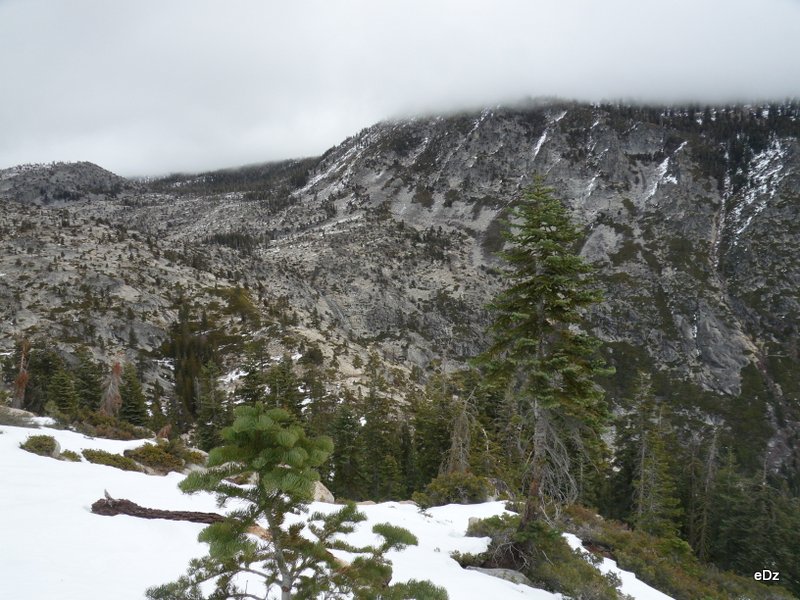 The key was the turning of the weather. Forecast mentioned some 60% chance of snow, though Tahoe have only received some drops early December, the snow cover is not a problem. We rented snowshoes from REI, and started hiking from 630am, to buffer some time in case condition gets worse. The original plan was hiking up horsetail falls trail until it's a good point to turn northwest for some class 2-3 scrambling. I was anxious to get higher for the view, and was not paying attention to compass at all, led everyone else on to a ridge that forms the western boundary of horsetail falls canyon. The route to the ridge was travelled to some degree, but not enough to clear the bushes. We cursed our way up with 'XX bushes' for 2 hours finally arrived the start point on the southern end of the ridge. It was a struggle.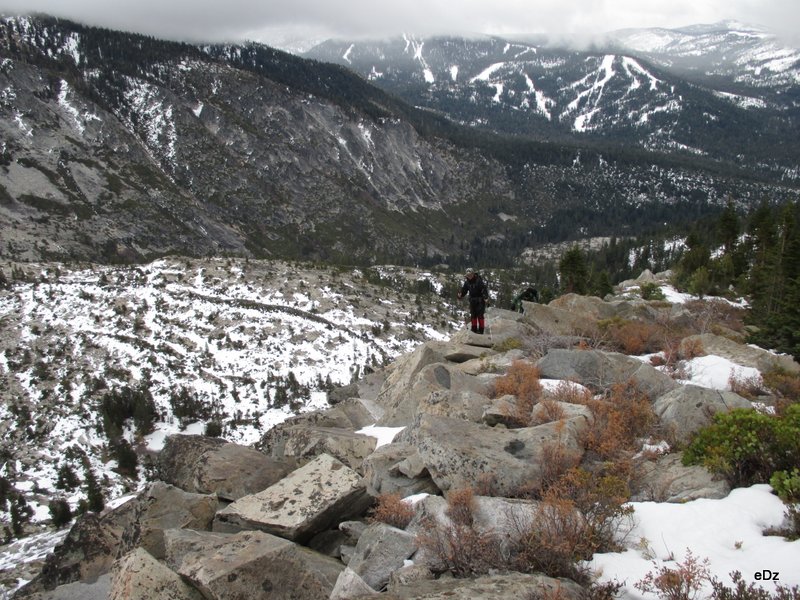 The ridge was not steep at all, but the clouds are rolling it, hiding Pyramid Peak from our view. We walked, hopped, jotted, until snow patches showed up. All of us were pretty unfamiliar with snowshoes, the novel feeling of walking efficiently on snow got us quite excited.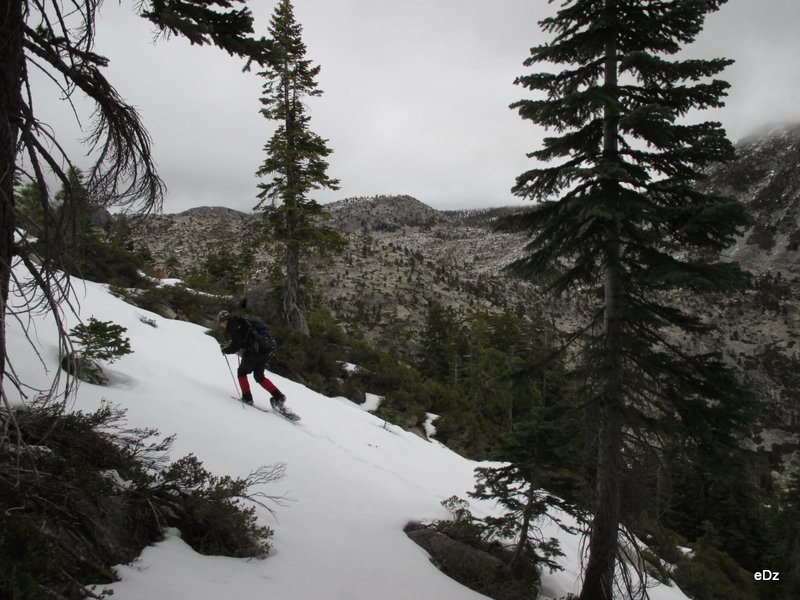 Then the rocks were back. We took our snowshoes off. Then it was just mixed terrain from there. It's awkward whether you wear snowshoes or not. Also the rock started to have a thin layer of ice on them, which made them quite slippery with bare shoes. We strolled along, Bo started to show some sign of tiredness.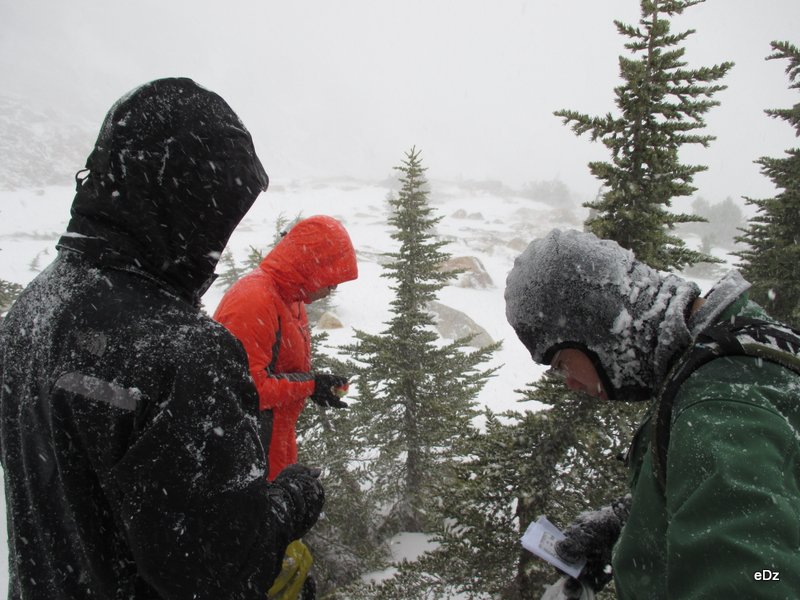 By the time we reach the bottom of the class 3 section, which is the final 1000 feet elevation gain to the summit, the weather was clearly not working, and it's almost 12pm. Bo was too tired to continue, and we gave him a compass, and told him that in 1 hour 40 minutes, if we didn't turn back, he should head back to the car. He was reluctant, but looking at Bohua, Yuxing and me who were still eager to conquer the peak, he accepted our compass and map.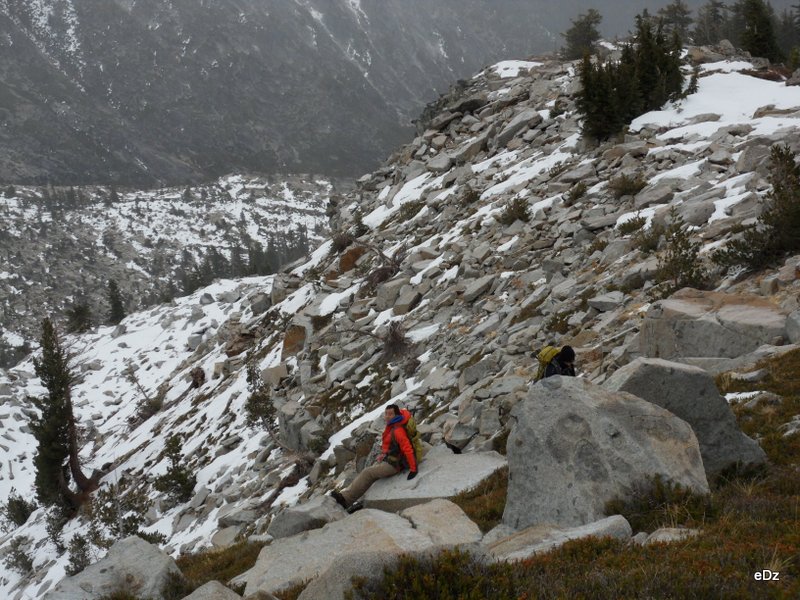 Climbing was not easy with the mixed terrain. Snow shoes could get off-balance on rocks, but it was also slippery if we don't wear traction. The climb was steep, completely beating the expectation from Yuxing about the 'mere 300 meters to climb up'. We struggled, putting on all the layers that we have while the wind-blown snow started slicing through our necks and faces. Visibility dropped to probably 50 meters. We followed each other tightly, used all four limbs to hold on whatever is available. We got to the top of the ridge, but the wind coming from west was so strong that we couldn't even stand up. Back down to the east side of the ridge, we continued shuffling hands and feet.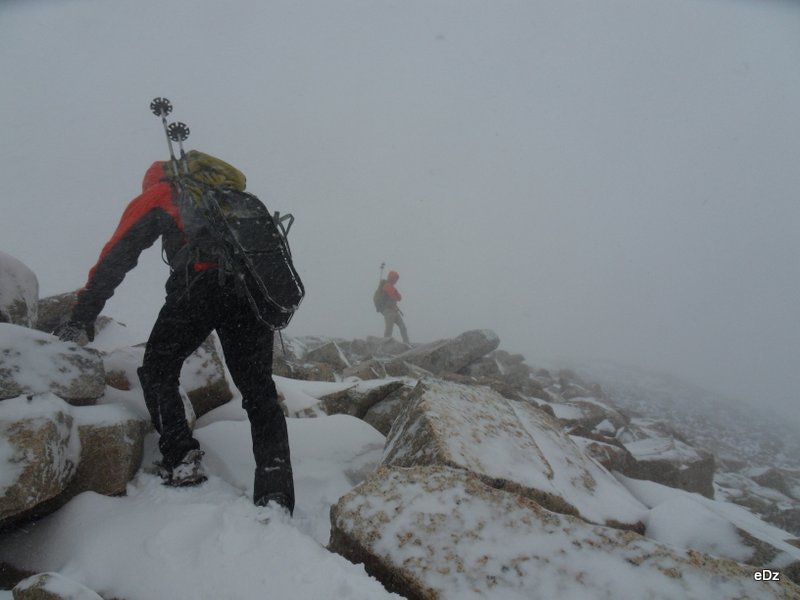 By 230pm, we were probably very close to the top, but there is no way moving forward without getting into the deafening blow above. It was time for us to retreat. Original plan was to follow back the same route so we could catch up with Bo, but the strong wind and low visibility made that impossible. We got to some flat section, knowing that we were down from the last 1000 feet of climbing on Pyramid peak, then we had no other sense of direction other than the red arrow on compass.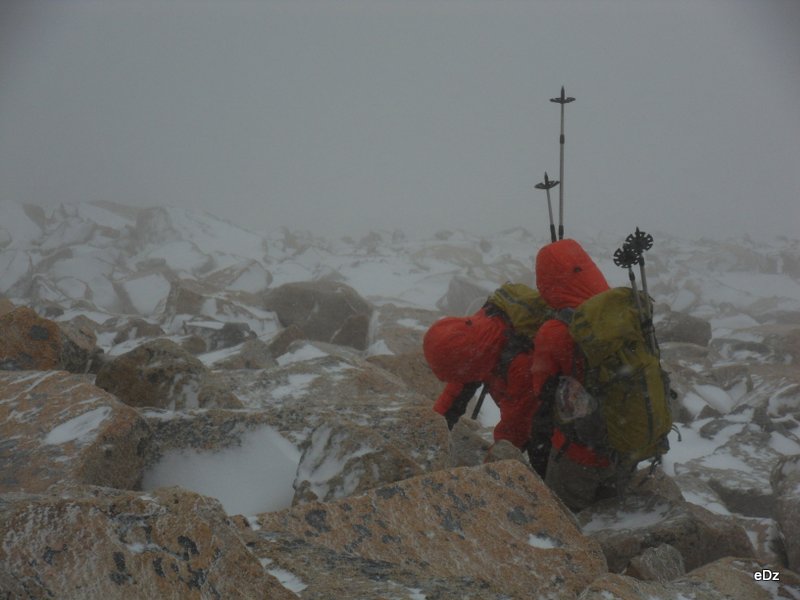 The duo's Mountain Hardware matching outfits were flashy.
In the next hour, we found ourselves clearly out of the original plan, but according to the map we had, we were not totally lost. There were two canyons that we could be in, but there was no way to tell. We could only walk south, and hope for the best.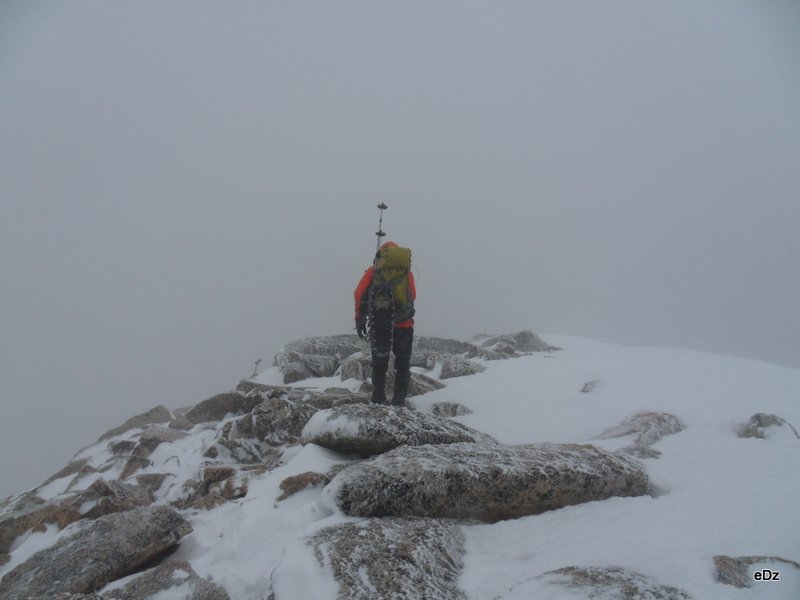 Then the pine forest showed up. Subsequently the bushes, we went miserably through the bushes, finally identified the river that was marked on the map as rocky canyon. We followed through.
It was pretty dark by 530. I didn't have a working head lamp, so Yuxing and Bohua took turns leading route. The river banks were getting steeper and harder to follow. Luckily, some footstep in the snow marked a little trail we could follow, which lit everyone up, knowing that we wouldn't be here all night.
Then after some 30 minutes of easy following, we lost the trail again. Time to choose which side of the river to follow, and we probably chose the wrong half. It was steep with moderate amount of bushwhacking. Our snowshoes turn out to be a good floatation device on top of the bushes. We continue followed our compass directly south and eventually was able to see the highway from far. We started descending, not knowing how far we are actually from the highway, only to hear cars passing by and hoping that we are getting closer to civilization.
Finally a waterpipe followed by some house showed up. It was 830 pm, long after it got dark. And it was raining, for god sake the one rain in a month. How proper.